I've been looking for its subs.. But god knows where to find... I know Aibakaland's Forum since someone suggests it to me but the thing is must reached how many post i couldnt be bother. i just want to watch..i dun have any intention to sell the subs, streaming it or whatsoever violations other people has made.. i just wanted to enjoy the showw.. plus aiba is one of my favorite too.. he's funny and silly and he'd really know how to act.. i dont know.. im just dissapointed..
okay, Stormy Team also hardsubbed this dram.. but the community seems to locked and they now closed the acceptance to the new member.. oh gosh im so upset...

Now unintentionally i fell in love wif kpop. but that doesnt mean my feeling wif jpop fades away~~
Woohoo B2St is now my only favorite kpop artist boy's group...
Hey but still Yamapi, HeySayJump, NYC, Yuna Ito and all other various Jpop's artists are my favorite. It's just that now im disconnecting wif Jpop things. Afterall, the world demands Kpop. Everywhere is Kpop doesnt matter in tv, internet, newspapers, megazines. Tell the truth im suffocating of the media focused and spotlighted Kpop.
Alright now im done talking.. see you later.. u know i miss this LJ alot.. now im going to active on LJ..
Exam Madness!!!
(
Read. If u interested....
Collapse
)

Current Location:

Yuto's kitchen

Current Mood:

Gotta study!!

Current Music:

Yuki 100% - NYC
~Jingle bells... Jingle bells... Jinggle all the way.. Oh What fun it is to ride in a one horse open sleigh...~


I've been singing and listening to this song over and over again.... It's brings me back the memories where my family and I went to visit our relatives there at Florida. Maybe this year, we'll visit them. We planned to surprise them by not telling them we're coming visit them.. Oooh~ How fun would it be!! I'm looking forward to it. I've been missing my dear cousin. same age as me, Marinah.
Yup, not only this jingle bells song but also I listened to other like A Hello! Project Christmas, Wonder Years by Wonder Girls, Shinhwa- Winter Story 2007, Christmas Present by Son Ho Young and many english christmas songs which totally great!!
(
Anata ga Iru Kagiri....
Collapse
)

Current Location:

on my table

Current Mood:

~Jingle Bells~

Current Music:

Yuna Ito ft Celine Dion- Anata ga iru Kagiri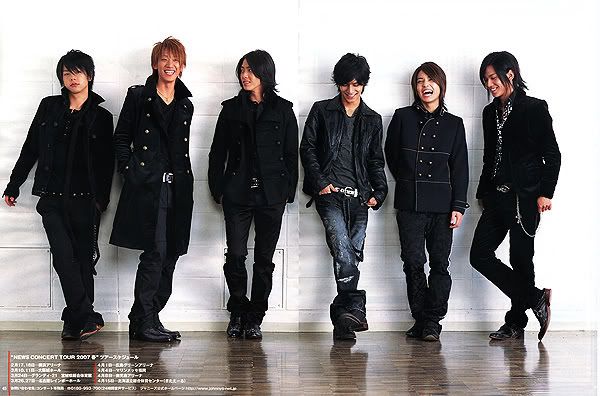 hAPPy aNniVerSaRy, NEWSSU!!!

Hope they're get healthy as always!! Support together!!!!

Current Mood:

Oh news!!

Current Music:

Maria Maria- Santana

Maki new commercial!! Maki look tempted about chocolate. The chocolate seems nice... If there is sale in Singapore I'll buy it for sure!!!

Watched Hanakimi ep. 10!! Cute, haha... Sano accidentally pressed Mizuki's breast.... Nakatsu had confessed!! What's more, Nakatsu told Sano that Mizuki is a girl and told him that he would take away Mizuuki from Sano. Ok-ok... I can't wait for the last episode. It's sad the drama has to end soon... The last one must be perfect ending!!!

I can't log in Yamaki Forum. How sad... What should I do? Just wait I think.. Probably the forum has a litlle wrecked or sumthing.


Current Mood:

depressed

Current Music:

Snow Express- NewS
Current Mood:

But I'm not angry!

Current Music:

barbie Girl by Aqua