[
Click here, don't hesitate
]
2015, where I'm browsing and keep tracking/updating new drama to watch. I'd prefer dramas/series than tv shows, don't ask me why but okay, simple to say... It's more troublesome. Like, it's says it is reality show, base-on real life... But no matter how or what, there're slight chances that they remake or act it out to gives some 'woohaa!' reaction from the audiences.
Drama/movie/series, mostly based on fictionist storyline, fictionist characters and places. Even though, I know about 20% or 40%, taken from the real life events. But on my mind, I'll stress myself that it's isn't real even you want it to be.
Back to what my intention of posting today....
Currently watching:
1) Gakkou no Kaidan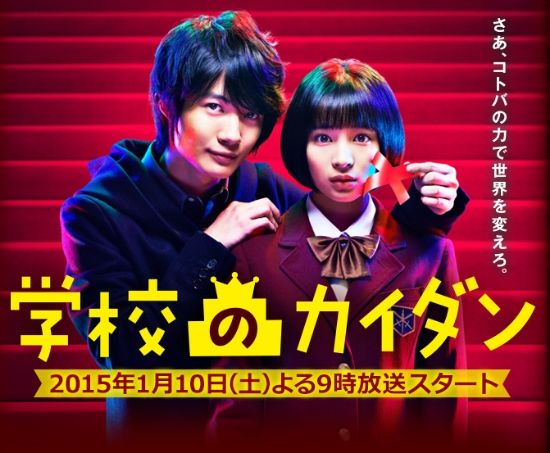 I'm watching this because of Kamiki Ryunosuke!! Since his child acting till now amazed me how he becomes better and marvelous. Not to mention, he takes role of 'rebellious kid but pretend to be nice, polite and intelligent' from kazoku game. And then he acted in Rurouni Kenshin as annoying over-confident kid and ended up became ridicculous crazy blahblah.
Talk about this drama, so far I've enjoyed through all the episodes. But havent complete up to ep 9-10. I've heard alot of comments told me that this drama has a great ending where everyone is happy!! Ureshiii!!!
2) Ouroboros
My favorite actors joining forces!!!
Ikuta Toma and Oguri Shun...!!! A perfect duo who in seach of their loving teacher's murderers from 15 years ago (isn't it?? sorry if i'm wrong) Ikuta becomes offficer policeman while Oguri took a profession as youngest intelligent yakuza.
No love is present here except there's a mutual feeling or admiration from the female police who's Ikuta partnering with. But I heard the spoiler from some comments at the forum which I am quite active in posting there, it was severe disappointment. Why?! Because they... sshhh... Both died.... I'm gonna take a pistol and shoot myself...
3) Suteki na SEN Taxi
I can't express how I LOVE THIS DRAMA SOOO BADD!!
Contained of comedy expression and variety of plot-twisting, teaching us about life where we can't turn back but this drama did! It's actually teach us the true meaning about life, teaching us that even you turn back your past doesn't mean the problem will bcome better but it can turn out to be more worse than what we are facing now.... This drama also teachs us to dear our close one, appreciate them more and giving our best to make best enjoyful memories together... Yep uepThis drama is highly recommended by me!!!
Attempt to watch:
1) Masshiro
I'd really wanted to watch but.... Out of my regrettance, so far no english subs exist.... This drama looks promising and since the day it lauched the trailer, my heart throbbing endlessly as I've got to know that Horikita Maki in it....
I'll definitely watch this if the subs appear out of nowhere as long as I can understand.....
2) DOCTORS 3
Looking forward for 3rd since last year and I jumped higher and higher.... But I gotta wait for the subs to release completely
3) Tensai Mitarai Tantei (the title was actually longer than usual... And it's SP)
Oh my gawwwdddd there he is!! The charismatic funny guy is here, Tamaki Hiroshi!!! And Domoto Koichi, hisashiburi!! The duo plays as 'Sherlock Holmes - Watson' character where Tamaki is Holmes-like and Domoto is 'Watson-like who always open his mouth to ask the questions and expecting the answer from Tamaki...
So far no subs exists and that's so sad :(
4) Koko ni aru Shiawase
I love Matsuda Shota haircut here, so refreshing!! I've already got the subs, but video requires torrent to download so I have to wait for my mum's laptop so I could download it from hers....
Well that's it.... Until then....
Today, I'm gonna listing all my currently watch drama or attemp to...